This is a piece of information that every Administrator should know, because there are many cases when you will receive the error: "you have been logged on with a temporary profile" and you prefer not to reinstall that machine…
"How can I delete a user profile on a Windows 7 Computer, that is already part of a domain?"
A. Simple solution (if it doesn't work, go to B)
Log in with an account that has administrator privileges
Go to Start / Right click on My Computer / Properties
3. Click on Advanced system settings


4. Click on Settings (under User Profiles):
5. Select the profile you would like to remove and press Delete and OK:
*If the profile is not here go to step B!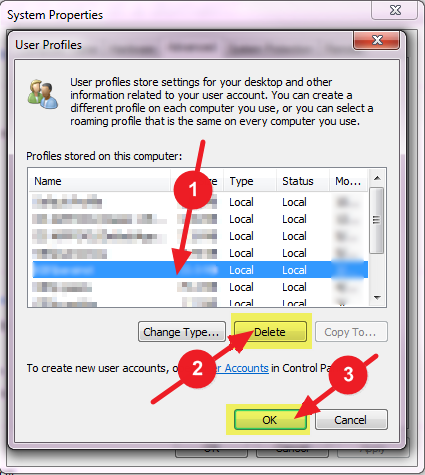 B. Not-so-simple solution (if A doesn't work straight away, or the profile is not in the list)
In this case you need to remove the profile from Regedit. In order to do that:
Go to Start / type Regedit / open it

2. Browse to the following registry key:

HKEY_LOCAL_MACHINE\SOFTWARE\Microsoft\Windows NT\CurrentVersion\ProfileList

3. In this folder you will see keys that start with S-1-5-21… 
4. If you click on them, in the right panel you will see the profile name



5. Pick the one that is concerning your desired username, and delete the whole folder S-1-5..
6. Also delete the physical Folder under:

C:\Users\%username%

——-
At this time you will be able to login with the desired domain account and you should not encounter the "Temporary profile" problem. 

Enjoy & drop a line if you have issues.
Aurel.